Risk-reward for stocks is extremely poor amid hawkish Fed: MS

Strategist says S&P 500 to slide as much as 26% in first half
Expensive US equities are flashing a warning sign that could see the S&P 500 sliding as much as 26% in the first half of this year, according to Morgan Stanley strategists.
While recent data suggest the economy might be able to dodge a recession, they've also taken the possibility of a Federal Reserve pivot off the table, according to a team led by Michael Wilson. That doesn't bode well for stocks as the sharp rally this year has left them the most expensive since 2007 by the measure of equity risk premium, which has entered a level known as the "death zone," the strategist said.
The risk-reward for equities is now "very poor," especially as the Fed is far from ending its monetary tightening, rates remain higher across the curve and earnings expectations are still 10% to 20% too high, Wilson wrote in a note.
"It's time to head back to base camp before the next guide down in earnings," said the strategist — ranked No. 1 in last year's Institutional Investor survey when he correctly predicted the selloff in stocks.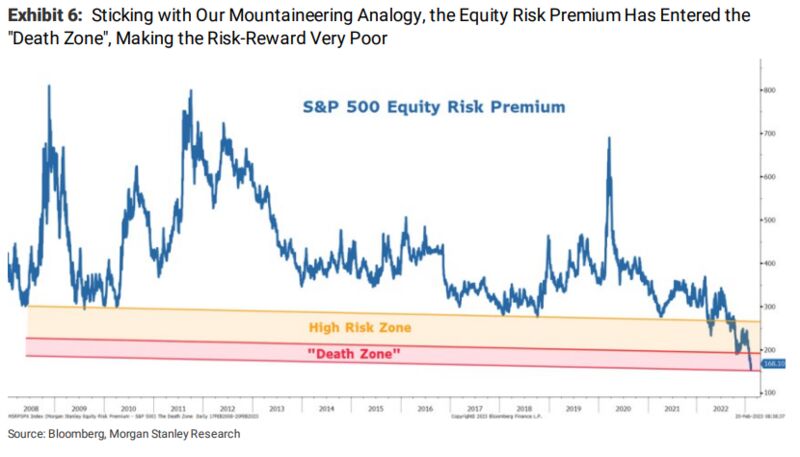 After sinking into a bear market last year, US stocks have rallied in 2023 as signs of easing inflation fueled bets the Fed could slow the pace of rate hikes. But policy makers have warned that interest rates could rise further as price pressures remain elevated, while a glum outlook for corporate earnings has dampened risk sentiment in the past few days. The S&P 500's so-called MACD momentum — which shows the relationship between two moving averages of a security's price — is now weakening, according to data compiled by Bloomberg.
Others on Wall Street have also warned that the recovery in stock markets may have gone too far. JPMorgan Chase & Co.'s Mislav Matejka said this week that bets on resilient economic growth and a Fed pivot are premature, while Bank of America Corp. strategist Michael Hartnett sees the S&P 500 dropping to 3,800 points by March 8 — implying declines of about 7% from current levels.
Morgan Stanley's Wilson is far more pessimistic and holds a view that the benchmark index can slide to as low as 3,000 — a 26% drop from its last close — in the first half of 2023.
That's "very much out of consensus at this point," especially as active institutional and retail investors are more bullish than they have been in over a year, the strategist said.
(
Updates with context on S&P 500 rally from fifth paragraph
)
 BullsNBears.com was founded to educate investors about the eight secular bear markets which have occurred in the US since 1802.  The site publishes bear market investing recommendations, strategies and articles by its analysts and unaffiliated third-party and qualified expert contributors.
No Solicitation or Investment Advice: The material contained in this article or report is for informational purposes only and is not a solicitation for any action to be taken based upon such material. The material is not to be construed as an offer or a recommendation to buy or sell a security nor is it to be construed as investment advice. Additionally, the material accessible through this article or report does not constitute a representation that the investments or the investable markets described herein are suitable or appropriate for any person or entity.