One-day mark-to-market profit of $513 million on short bets

Stock remains halted after falling 63% in premarket trading
SVB Financial Group's record plunge on Thursday minted short sellers roughly half a billion dollars in paper profits. But they now face a challenge: how to close their positions.
SVB shares plunged by 60% on Thursday as worries mounted over the bank's operation, netting traders who bet against the stock a one-day mark-to-market profit of roughly $513 million. The stock fell another 63% in premarket trading Friday before being halted, with the Federal Deposit Insurance Corp. ultimately announcing that it had seized the bank.
"SIVB's closure gives short sellers a windfall profit, but now they have to go through the sometimes-difficult process of liquidating their positions and realizing their mark-to-market profits," said S3 Partners head of predictive analytics Ihor Dusaniwsky. 
"With stock borrow financing costs accruing daily, even on weekends, even though trading is halted there is a continuous reduction of profits until short sellers close out their positions and return their borrowed shares."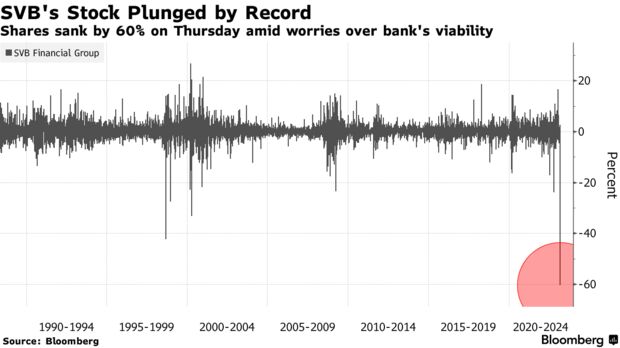 The SVB collapse comes just a day after crypto-friendly bank Silvergate Capital Corp.'s announcement that it would liquidate and voluntarily wind down operations of its bank. That too minted bets against that heavily-shorted stock a sizeable windfall, although unlike SVB, its shares are still trading.
 BullsNBears.com was founded to educate investors about the eight secular bear markets which have occurred in the US since 1802.  The site publishes bear market investing recommendations, strategies and articles by its analysts and unaffiliated third-party and qualified expert contributors.
No Solicitation or Investment Advice: The material contained in this article or report is for informational purposes only and is not a solicitation for any action to be taken based upon such material. The material is not to be construed as an offer or a recommendation to buy or sell a security nor is it to be construed as investment advice. Additionally, the material accessible through this article or report does not constitute a representation that the investments or the investable markets described herein are suitable or appropriate for any person or entity.