Feature-packed Seagull launches into midst of China price war

Later version may carry cheaper, safer sodium-ion battery
A new electric hatchback starting from just 78,800 yuan ($11,450) from BYD Co. is set to intensify competition in China's already crowded entry-level car market.
Unveiled at the Shanghai auto show this week, the Seagull drew big crowds with its neon yellow-exterior and budget price tag. The 55-kilowatt motor motor version offers around 190 miles (300 kilometers) of range and a top speed of 80 miles per hour, while the 75kW motor iteration the range up to 250 miles. Features include a 10.1-inch rotating touchscreen, four air bags and bluetooth car keys.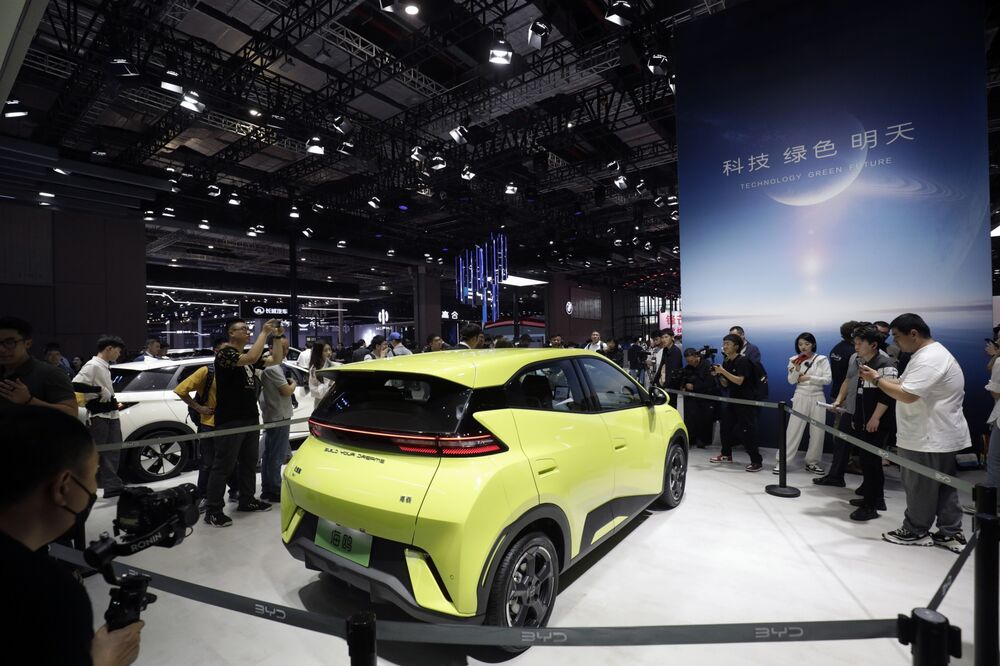 The Seagull has several competitors in the compact hatchback market, including the Bingo from General Motors Co.'s joint venture with Shanghai Automotive Industry Corp. and Wuling Motors Holdings Ltd., which starts from 59,800 yuan, and EV upstart Leapmotor's T03, which goes for 65,800 yuan.
The launch of the Seagull comes as a price war embroils China's car market, with some automakers discounting slow-moving models by up to 40%. BYD already dominates China's EV market, accounting for six of the 10 top-selling models last year.
"BYD is adding pressure for other carmakers in the segment," said Tu Le, managing director of automotive consultancy Sino Auto Insights. The Bingo is a strong competitor and has a lower price point, but the Seagull offers good value, he added.
One drawback is that the Seagull didn't launch with sodium-ion batteries — which are cheaper and safe than lithium-ion cells — as anticipated. However, Chinese online media outlet 36kr reported the car will eventually be the first to carry BYD's sodium-ion battery, which is expected to go into mass production in the second half of this year.
So far, BYD hasn't announced plans to export the Seagull. An earlier, larger model known as the Dolphin, has been launched in markets from Southeast Asia to Europe and South America. BYD chairman Wang Chuanfu has ruled out entering the US passenger car market for now.
For the Seagull to sell in Europe, it would likely require modifications to pass the European New Car Assessment Program. The made-in-China Dacia Spring EV from Renault SA, billed as Europe's most affordable EV, was re-engineered for Europe with a reinforced chassis, six airbags and other modifications, according to Jochen Siebert, the managing director of consultancy JSC Automotive.
In Europe, the Seagull would compete with the Dacia Spring and would have to hit a price point around €22,000 ($24,000), which may not be possible after going through the safety-approval process, said Siebert.
For instance, the Dolphin is expected to start from €30,000 in Europe, about 80% more expensive than its price in China.
Bridget McCarthy, a market research analyst at hedge fund Snow Bull Capital Inc., which has invested in BYD, said she expects the Seagull to sell well in China and other markets if it's exported.
"No other company can offer a car with that level of technology at that price point," she said.
Written by: Linda Lew — With assistance by Danny Lee and Qingqi She @Bloomberg.com
 BullsNBears.com was founded to educate investors about the eight secular bear markets which have occurred in the US since 1802.  The site publishes bear market investing recommendations, strategies and articles by its analysts and unaffiliated third-party and qualified expert contributors.
No Solicitation or Investment Advice: The material contained in this article or report is for informational purposes only and is not a solicitation for any action to be taken based upon such material. The material is not to be construed as an offer or a recommendation to buy or sell a security nor is it to be construed as investment advice. Additionally, the material accessible through this article or report does not constitute a representation that the investments or the investable markets described herein are suitable or appropriate for any person or entity.