Kantrowitz at Piper Sandler forecasts a 16% decline in 2023

Back-to-back double-digit annual losses are rare in S&P's book
Equity investors hoping for a reprieve in the new year after a brutal 2022 are likely to be disappointed, according to Michael Kantrowitz at Piper Sandler & Co.
The strategist, ranked No. 3 in the last year's Institutional Investor survey, predicts that the S&P 500 will fall 16% to 3,225. The price target is the lowest among Wall Street prognosticators tracked by Bloomberg. 
Should that call come true, it'd be the first time since 2002 — and only the fifth time in almost a century — that the benchmark index suffered at least two consecutive years of double-digit declines.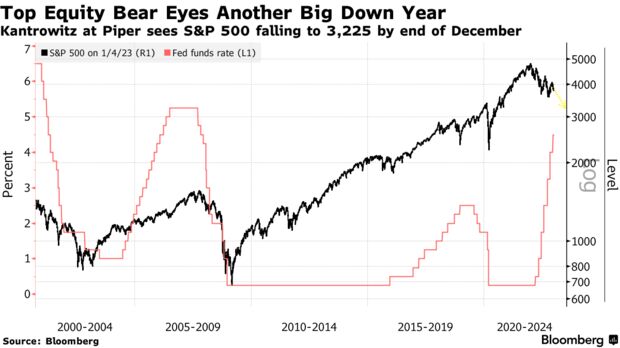 While admitting that history is not on the side of bears, Kantrowitz says the market is contending with something unusual: a Federal Reserve hellbent to fight inflation. As it takes time for higher borrowing costs to work through the economy, he argues, the hit to corporate earnings is likely to extend well into next year. 
"There is more pain ahead for equities as the knock-on effects of 2022's bond bear market and global policy tightening begin to show up in corporate earnings and cyclical market risks," Kantrowitz said in an interview. "In many ways we are in an uncommon backdrop." 
The bleak view stands out in a crowd where many expect the bear market to reach a bottom during the first half before mounting a recovery. The average year-end target among strategists surveyed by Bloomberg in December sees the S&P 500 rising 6% to 4,078.
 BullsNBears.com was founded to educate investors about the eight secular bear markets which have occurred in the US since 1802.  The site publishes bear market investing recommendations, strategies and articles by its analysts and unaffiliated third-party and qualified expert contributors.
No Solicitation or Investment Advice: The material contained in this article or report is for informational purposes only and is not a solicitation for any action to be taken based upon such material. The material is not to be construed as an offer or a recommendation to buy or sell a security nor is it to be construed as investment advice. Additionally, the material accessible through this article or report does not constitute a representation that the investments or the investable markets described herein are suitable or appropriate for any person or entity.