Revision shows 2.7% annual gain versus 2.9% initial estimate

Federal Reserve's key inflation metrics were revised higher
US economic growth in the fourth quarter was weaker than previously estimated, reflecting a downward revision to consumer spending as the Federal Reserve's preferred inflation figures were revised higher.  
Inflation-adjusted gross domestic product, or the total value of all goods and services produced in the US, increased at a 2.7% annualized rate during the period, Commerce Department data showed Thursday. The figure compares with a previously reported 2.9% advance.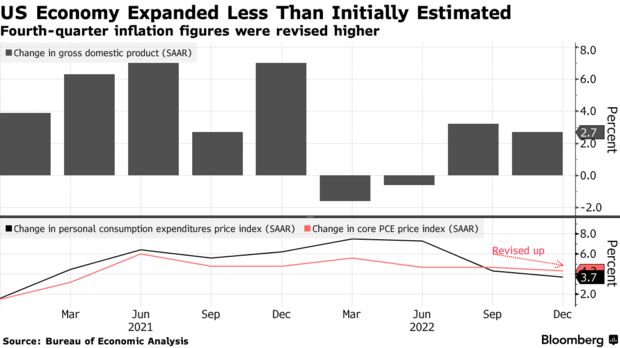 The details of the report point to an economy that was losing steam at the end of 2022. Stripping out trade, government spending, and inventories, a key gauge of underlying demand known as inflation-adjusted final sales to private domestic purchasers rose just 0.1%, the weakest since the start of the pandemic.
Household expenditures increased an annualized 1.4% in the final three months of 2022, restrained by a third-straight quarter of declines in spending on durable goods such as motor vehicles. Consumer spending was previously estimated as rising 2.1%.
While the rapid slowdown in personal spending in particular spurred concerns about the health American consumers, it also bolstered hopes that the economy was slowing in a way that could be consistent with a so-called soft landing.
Recent figures, however, point to a rebound in consumer spending at the start of 2023 and a startlingly strong job market highlighted by the lowest unemployment rate in more than 53 years. That, combined with upward revisions to fourth-quarter inflation, shows risks of more persistent price pressures.
The GDP data showed the personal consumption expenditures price index increased an annualized 3.7% in the fourth quarter, more than the 3.2% pace initially reported. The core measure that excludes food and energy rose an upwardly revised 4.3%.
Solid hiring against a backdrop of limited labor supply has driven up wage costs for companies and risks keeping inflation elevated. While the Fed has aggressively boosted interest rates to cool price pressures, raising the risk of recession, healthy employment growth is a big tailwind for the economy.
Separate figures Thursday showed initial applications for unemployment insurance unexpectedly declined to a three-week low. 
While consumer spending was revised lower, business spending was firmer than first reported. Nonresidential fixed investment climbed an annualized 3.3% compared with an advance estimate of 0.7%, largely reflecting stronger outlays on structures and intellectual property.
Personal consumption is poised to be a bigger support for first-quarter growth. The latest Federal Reserve Bank of Atlanta's GDPNow forecast, as of Feb. 16, sees 2.5% economic growth during the period. Inflation-adjusted spending data for January will be released Friday.
 BullsNBears.com was founded to educate investors about the eight secular bear markets which have occurred in the US since 1802.  The site publishes bear market investing recommendations, strategies and articles by its analysts and unaffiliated third-party and qualified expert contributors.
No Solicitation or Investment Advice: The material contained in this article or report is for informational purposes only and is not a solicitation for any action to be taken based upon such material. The material is not to be construed as an offer or a recommendation to buy or sell a security nor is it to be construed as investment advice. Additionally, the material accessible through this article or report does not constitute a representation that the investments or the investable markets described herein are suitable or appropriate for any person or entity.