Tech earnings growth this quarter may be weakest since 2009

Apple and Microsoft trading above their historical multiples
This year's rally in the shares of the biggest technology companies is the best thing going for bulls. It's about to run into an earnings season that's expected to deliver the biggest profit drop for the tech sector in more than a decade.
Apple Inc., Microsoft Corp. and other megacaps are almost single-handedly responsible for the S&P 500's 7% advance this year amid turmoil in the banking industry that's caused investors to flock to perceived havens. With profits projected to drop 15% in the first quarter, investment professionals are bracing for a significant pullback if the behemoths fail to beat expectations.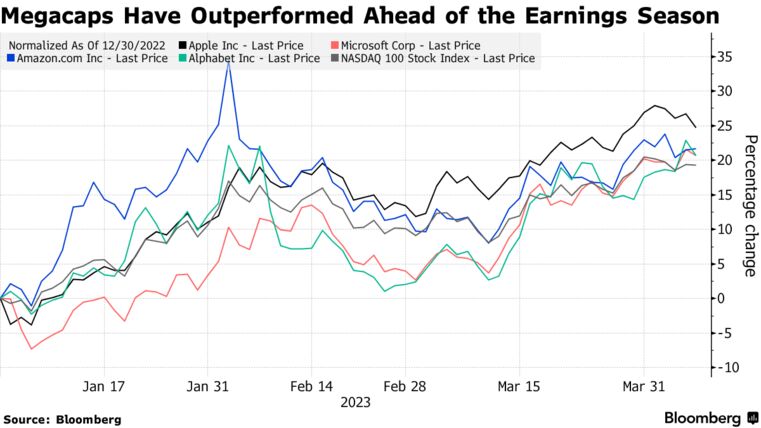 "Tech has been crushing it, but now we're at an inflection point," said Philip Orlando, chief equity market strategist at Federated Hermes. "Earnings trends look dreadful and prices look too high. There's a lot on my list of concerns, and if there's suddenly a hiccup associated with guidance or the macro or whatever, these stocks could get crushed."
Apple, Amazon.com Inc., and Alphabet Inc. are all up about 20% this year, beating the 19% rise for the Nasdaq 100. Nvidia Corp., Tesla Inc., and Meta Platforms Inc., are up even more — from 50% to 88%. JPMorgan strategists led by Mislav Matejka said the group looks overbought.
The projected drop for tech earnings in the first quarter would be the biggest since 2009. Earnings for the S&P 500 Index are seen down 8% for the period. The consensus has been consistently weakening: Six months ago, analysts in aggregate were expecting that tech-sector earnings would edge up by 1%.
Expectations have been coming down for the biggest companies. The average estimate for Apple's earnings in the quarter just ended has dropped by 4.4% over the past three months. There's a similar trend at Microsoft, and for both, analysts are scaling back what they expect for the full year.
The deteriorating view reflects a number of headwinds, including weaker economic growth, further Federal Reserve interest rate increases to combat inflation, and turmoil in the banking sector that threatens to curb corporate access to lending. However, one place these concerns aren't being seen is in stock prices, where a rally has taken price-earnings multiples to elevated levels.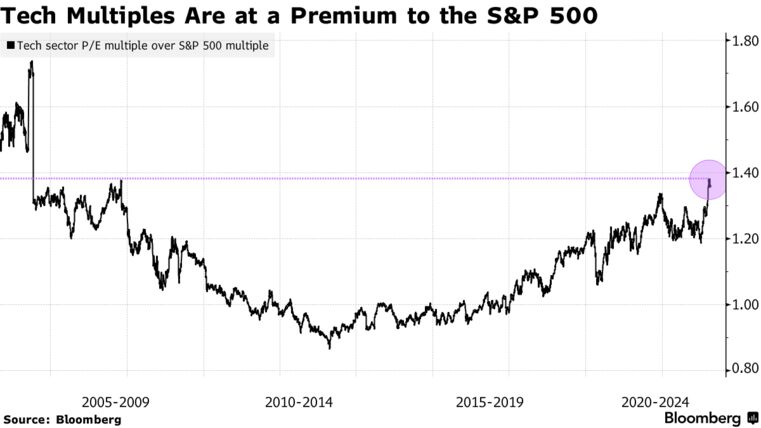 Last quarter, 85% of tech companies in the S&P 500 beat expectations in terms of earnings, compared with 69% of overall S&P 500 components. Only 56% of tech stocks beat in terms of revenue, compared with 58% for the S&P.
The combination of falling estimates and rising prices means that valuations have gotten lofty, especially given that the International Monetary Fund's outlook for global economic growth over the next five years is the weakest since 1990.
Apple is trading at 26 times estimated earnings, above its 10-year average of 18. Microsoft is also at a premium to its long-term average, and both are above the 24 multiple of the Nasdaq 100, which itself is higher than its long-term average. The forward earnings multiple of the S&P 500 Information Technology Index, relative to the benchmark overall, recently hit its highest since 2005.
"You really have to see earnings come through to justify this kind of valuation," said Jeffrey Buchbinder, who oversees more than $1.1 trillion as chief equity strategist for LPL Financial. "Right now it's a show-me story, and given how strong the run has been, misses will be punished. This is a valuation-driven rally, and those are the kinds of gains that can come out of a stock quickly."
Tech Chart of the Day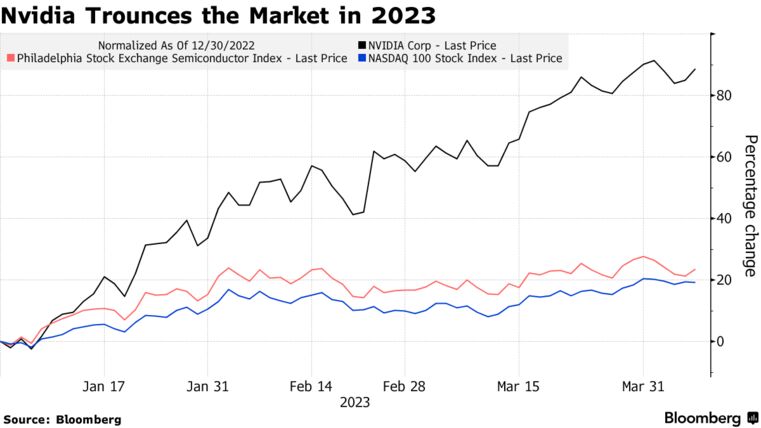 Nvidia has been a standout performer of 2023, surging 88% as the best-performing component of the Nasdaq 100 Index. The surge easily trounces the 19% advance of the index itself, as well as the 24% gain of the Philadelphia Stock Exchange Semiconductor Index. Much of Nvidia's advance has been related to interest in artificial intelligence technology.
 BullsNBears.com was founded to educate investors about the eight secular bear markets which have occurred in the US since 1802.  The site publishes bear market investing recommendations, strategies and articles by its analysts and unaffiliated third-party and qualified expert contributors.
No Solicitation or Investment Advice: The material contained in this article or report is for informational purposes only and is not a solicitation for any action to be taken based upon such material. The material is not to be construed as an offer or a recommendation to buy or sell a security nor is it to be construed as investment advice. Additionally, the material accessible through this article or report does not constitute a representation that the investments or the investable markets described herein are suitable or appropriate for any person or entity.