Empire State factory gauge slumped more than 42 points in May

Nearly half of all respondents cited worsening conditions
A gauge of New York state manufacturing activity slumped in May by the most in more than three years as orders and shipments shrank abruptly.
The Federal Reserve Bank of New York's general business conditions index dropped 42.6 points to minus 31.8 in May, data showed Monday. Readings below zero indicate contraction and the gauge was weaker than all estimates in a Bloomberg survey of economists. 
The measure has been very volatile since mid-2021. Nearly 50% of respondents to the May 2-9 survey said business conditions have worsened.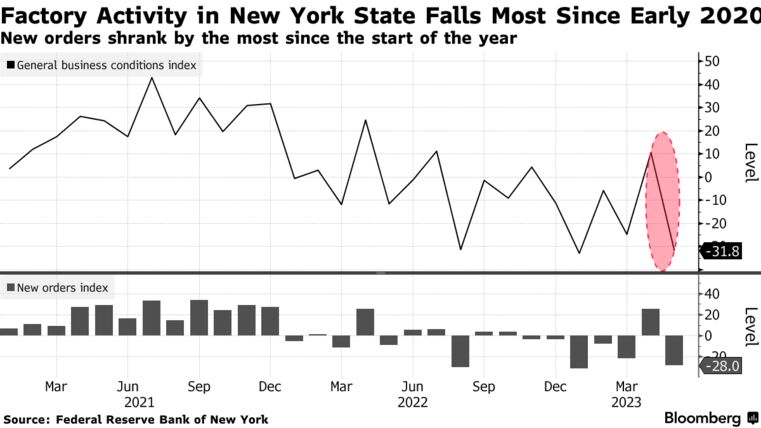 The orders index also slid by the most since April 2020, hitting the lowest level since the start of the year. The shipments gauge plummeted more than 40 points. 
The New York Fed's gauge of prices paid increased after matching the lowest level since 2020 a month earlier. The measure of prices received was little changed. 
The employment gauge indicated headcount shrank, though by less than the prior month. Hours worked also contracted.
The index of factory inventories shrank to the lowest since October 2020, while unfilled orders also eased. 
Looking ahead, factories were more upbeat about general business conditions in coming months, with the index climbing to a three-month high. Forward-looking measures of orders and shipments grew at faster paces. Indexes of input costs and selling prices in the six months ahead showed slower growth.
The report is the first of several regional Fed bank factory indexes set for release in the coming weeks. 
 BullsNBears.com was founded to educate investors about the eight secular bear markets which have occurred in the US since 1802.  The site publishes bear market investing recommendations, strategies and articles by its analysts and unaffiliated third-party and qualified expert contributors.
No Solicitation or Investment Advice: The material contained in this article or report is for informational purposes only and is not a solicitation for any action to be taken based upon such material. The material is not to be construed as an offer or a recommendation to buy or sell a security nor is it to be construed as investment advice. Additionally, the material accessible through this article or report does not constitute a representation that the investments or the investable markets described herein are suitable or appropriate for any person or entity.